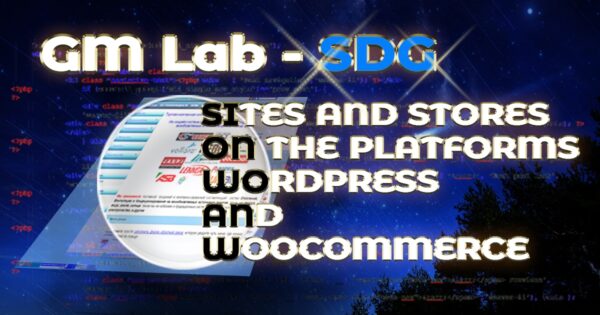 Good afternoon,
Just a few words about my GMLab-SDG project.
That is not my goal to present some finished design or anything like that on this site, but rather I want to represent different possibilities of embodying the various elements of which consist, or may consist the site construction. The final design, however depends predominantly on the customer's preferences.
Here you can see several techniques of using HTML markup, and the possibility of implementing of various scripts.
But after all, if you need a website, blog, business site, or let's say a full blown online store, with an absolutely independent platform, that is, where you would not run into the limitations of the functionality, of some site constructors. So here we are, you came to the right spot.
An independent platform with a multifunctional WordPress engine, combined with a commercial WooCommerce platform with a huge number of tools for a full range e-Commerce, will become a reliable tool for you to promote your ideas, or your business.
Contact me through any form available on the site, I will consult you on the essence of your task and help you to find the optimal solution.
As well I can make your resource bilingual , I do have experience in translation from English to Russian for more than 30 years.
Best regards GMLab – SDG.
GMLab – SDG project – some examples of works:
https://Karina Kazarian
https://Stores on WooCommerce
https://IPCO Spiritual Freedom
https://LLC CLINS
https://CAFE CACAO FOR ALICE
https://WORKSHOP OPEN KITCHEN
https://SP IMLab
https://IBO AMWAY
https://LLC Magneft
https://Legal Prof Expert
https://Karaoke Cafe Payot
Page tags: GMLab, hosting FOZZY with GMLab, SITES AND STORES ON THE PLATFORMS WORDPRESS AND WOOCOMMERCE , WEB DESIGN, SUPPORT, PROMOTION, SEO, ETC.